This 2023, it's time for you to dominate your industry. "How will I do that, Reb?" you might ask… Two words: CONTENT CREATION.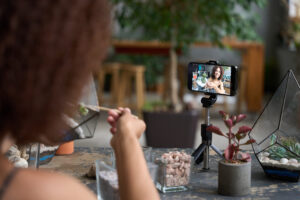 Content creation helps you reach new audiences and provides businesses with effective and affordable strategies compared to traditional advertising. With one post, you can engage with potential and loyal customers. You can post a blog, have a great social media presence, and share fun videos and podcasts.
Why do I need a content marketing agency?
You might ask me, "Why should I work with a content marketing agency, Reb?". Content marketing agencies provide skills and knowledge specializing in content. They know how to help you create content that will give you that edge when you speak to your customers.
Engaging a content marketing agency can make a huge difference to your business. Not only will they create valuable content that will speak volumes, but they also use stats and metrics to take your campaigns to the next level. With their expertise in targeting the right audience and creating amazing stories, you will surely get great results. 
Content Marketing Agencies can also offer you valuable insights and creative insights you don't have.  
One of the most beneficial reasons is that working with a content marketing agency can accelerate your content development and launch vs. trying to reinvent the content wheel yourself. Building an effective content marketing program from scratch will take a lot of time and effort as you try to figure out the best way to create content. 
What's a major benefit of content creation?
Being able to stand out from the crowd these days is golden! Effective content is the best way to get people's attention. With a content marketing agency, you get to focus on the important aspects of running your successful business while ensuring that the content you are putting out is handled effectively and efficiently.
Content creation is a great way to not only reach a new audience and boost sales but also to keep your loyal customers engaged with your products.
What can I do to start?
If you're ready to start:
First, identify the goals and objectives of creating content. Is it to build brand awareness, become a thought leader, drive leads, or educate a specific audience? What Key Performance Indicators will you measure to determine the success of your content efforts?

Second – be clear about who you are targeting with your content.  The more specific you can be about who you want to speak to, the better you can develop your content themes and scripts for that audience.  This will also help you focus the content development. 

Third, commit to creating your content consistently. For example, – creating a video once a week. 

Fourth, keep your content topics focused. What is your specialty and area of expertise?  It's easy to create content about everything, the key though is keeping your content focused and specific to your audience.  The more you focus and specialize, the more effective your content will be.  People want to learn from experts, not a "Jack of all Trades". For example, if your specialty is helping e-commerce businesses with UX design, then write about UX design, make videos about UX design, produce a podcast about UX design, etc.  I think you get it from here.

Fifth, just do it. It takes time to build an effective content marketing program. The best way to get good is to start creating and testing content. It will never be good right away, but it will get better every time.  You might even have fun doing it.   
If you are serious about starting a strategic content marketing program, one of the best ways to get started is to work with a reputable content marketing agency or a content creator. They can help you through the process, teach you the best techniques and take the stress out of creating content.  These experts are a great way to bring your business marketing to a whole new different level. 
Content creation is a powerful way of reaching potential customers effectively and efficiently, and it's a great way to drive sales. It is a tool for marketers and business owners alike to find the right audience.
Read more about how content creation is important. Read about REBL's top content marketing strategy for 2023 here.